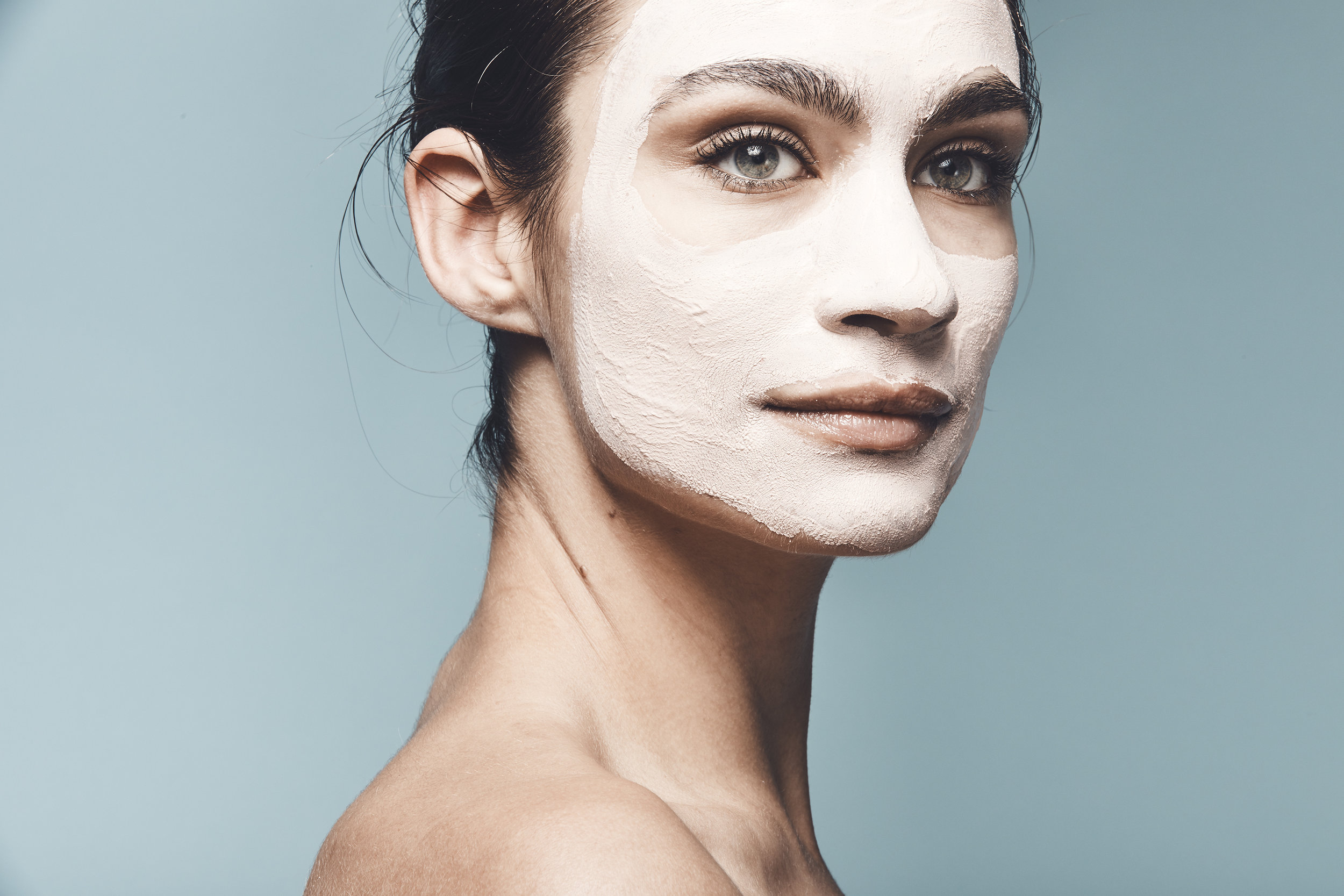 At All About Massage Day Spa we offer esthetic services for people of all identities. Whether you are in need of some TLC or have some specific areas that need some maintenance, we are here to help make you feel your best.
Introducing Henna Eyebrow Tinting and Shaping
Henna brows are a natural alternative to traditional eyebrow tints. The henna that we use is vegan friendly and requires no chemicals or oxidants to activate,only warm water. This henna coats the hair locking in moisture keeping the hair healthy and hydrated as well it stains the skin beneath the eyebrow for up to 2 weeks giving clients the appearance of microblading without committing to the procedure. We can tint those eyebrows to create a full look or to simply change the color to match a new do!
Facials are directed at enhancing the quality of your skin. Our services are customized to fit our client's individual needs and sensitivities. We use a highly reputable line of skin care products, Thalgo, that are environmentally friendly. Personalized skin analysis precedes the service to determine the best treatment to cleanse, sooth, hydrate and rejuvenate the skin. Many include facial massage and revitalizing masks. Please call the Spa to book a free consultation with our experienced estheticians.
Custom Facial
Facial cleansing, exfoliation, moisturizing massage and mask suited to your specific skin type. Complete with a scalp, neck, shoulder, arm and hand massage. ~ $85
Deep Cleansing Facial
An intensive deep cleansing facial including steam and gentle extraction of comedones and blackheads from the skin. We use a High Frequency Machine that helps treat and prevent stubborn acne, shrink enlarged pores, reduce the appearance of fine lines and wrinkles and more. ~ $95
Chrono Detox Facial
Repair and Replenish your skin from the effects of pollution. This facial includes all the services in a deep cleansing facial and more. Combined with active ingredients to help your skin to breathe and recover its radiance, this treatment will also help your skin to adjust to the changing seasons. ~ $105
Treatment Facial
Includes all of the features of our Deep Cleansing Facial with the addition of a collagen treatment that hydrates, firms and smoothes the skin. ~ $105
Thalgo Anti-Aging Facial
Correct the signs of aging as they appear with this smoothing and filling facial. Containing an anti-wrinkle solution drenched in high penetrating hyaluronic acid, this treatment fills and corrects deep wrinkles thanks to its exclusive massage and double professional mask. From the first session the skin looks younger and smoother. Your complexion will be glowing with youth! ~ $115
Teen Purification Facial
For individuals under the age of 17. This facial provides a deep pore cleansing, extractions if any and a mask. This facial sets the standard for good facial hygiene. ~ $65
Collagen Eye Treatment
Alone or as an add on to any facial, this treatment begins with a gentle enzyme based exfoliant to help remove dead skin build up under eyes and above the tops of eyelids to the temples. The exfoliation is followed by the application of a collagen eye mask and gentle pressure point massage. Add to any facial. ~ $20
Skincare rituals are important for maintaining a luminous complexion.
ALL NEW! Bio Nails - We can build you new nails using our Bio Seaweed Gel! We can work with your existing nail length or we can add some length using just the gel - no acrylic tips required. BSG is the healthier professional gel choice. Regardless of the frequency of wear, BSG does not damage the natural nails. In fact, BSG is formulated to promote natural nail growth and shine. With zero dehydration, staining or weakening. $70
Bio Nail Overlay - Strengthen your existing nails with no added length with a bio seaweed gel overlay. $65
Bio Nail Fill - Fill in regrowth on existing bio nails. $60
Polish Change - Hands and nails are sanitized, filed and buffed. Following the application of enriched lotion, nail polish is applied using the colour of your choice. $30
Spa Manicure – Following a conditioning soak, nails are shaped, buffed and exfoliated. Following a relaxing hand and arm massage, nail polish of your choice is applied. $40
Shellac Manicure – Includes soak, full nail grooming including cuticle conditioning, exfoliating scrub, relaxing massage and polish application. Cured to last up to 2 weeks. $50
Shellac Polish Change – Includes removal, nail shaping and polish application. $45
Petite Manicure – (for children under 12) Light filing, mini massage, polish application. $30
Basic Pedicure - Treat your feet to a soothing foot soak followed by nail grooming, cuticle conditioning and callous smoothing. Enjoy a foot and lower leg massage that helps boost circulation. Toes are polished using the colour of your choice. $55 Buy here
Spa Pedicure – All the services of our Basic Pedicure with the addition of an exfoliating scrub, hot towel treatment and a longer massage than the Basic Pedicure. $60
Over The Top Pedicure – All of the above services plus your choice of a paraffin treatment or mint mask. $70
The Detox Pedicure ….Dual action, relaxation & detoxification
It is said that large numbers of toxic waste from the body descends into the feet, and while having just a typical pedicure helps to move circulation and lymph flow, the Detox Pedi will take your experience to the next level. We use charcoal in your soak as well as a foot mask to deep cleanse your skin and treat ailments on the feet followed by a charcoal infused scrub. Activated charcoal is known to absorb toxic build up in the body and it also helps to repair & rejuvenate skin tissue. The treatment ends with your color choice from our wide range of nail polish options and a relaxing foot and lower leg massage. $70
Petite Pedicure – (for children under 12) Light filing, scrub, mini massage and polish application. $45
Polish Change - Full nail care including polish change for toes. $45
Purifying Back Treatment - This treatment is similar to the purifying facial treatment. After a deep cleansing and exfoliation extractions help remove impurities. Following a mask, moisturizer is infused with a gentle back massage. This service is with an esthetician, so receipts are not issued for insurance purposes. $85
Essential Touch Treatment – Balance. Detox. Immunity Boost. Revitalize and Re-Energize. Emerge feeling like a NEW you with this combination of aromatherapy and touch. This is a whole body wellness treatment, using essential oils specifically chosen to help achieve a new, peaceful and restorative state. Through a thoughtful application to the back and feet, the benefits of the oils are released not just through the scent but through the relaxing, trustful touch of our esthetician. This treatment can provide relaxation at an emotional level as well, helping to heal from the daily stresses of life. You will leave the spa with a sense of clarity and a renewed spirit. This service is with an esthetician, so receipts are not issued for insurance purposes. $65 45 minutes.
Seasonal Glow Full Body Exfoliation - To maintain healthy looking skin, dead skin cells on the surface should be removed. Exfoliation is designed to leave your skin feeling soft, smooth and refreshed. Our full body exfoliation is followed by a nourishing massage to moisturize and relieve tension. You will leave feeling refreshed and invigorated! A pair exfoliating gloves will be your to take home. This service is with an esthetician, so receipts are not issued for insurance purposes. $95
Enjoy an invigorating treatment of the head, temples, neck and shoulders using massage and essential oils, promoting deep relaxation and releasing tension. Benefits include increase in memory, cognition and alertness as well as nourishing and supporting healthy hair. Brings clarity and strength to the senses! This is a great service on it's own or pair it with our Seasonal Glow, any facial or our Essential Touch. This is a 30 minute treatment with our esthetician, so not eligible for insurance coverage. Please allow yourself and extra 15 minutes if you would like to shower and wash your hair as oil be used with your treatment. $45